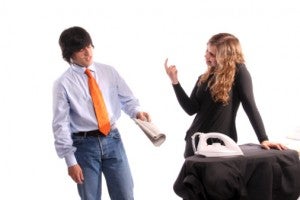 Sometimes people think it is major conflict that leads to divorce. However, most studies show that the day to day stress about money and the division of labor are main factors that contribute to marital discord. When the household duties are not managed well as a couple, the stress can take a toll over time. It is important to work with your spouse on developing a plan for completing household tasks and responsibilities.
This issue often becomes magnified when one parent is a stay at home parent. Often the person who works outside the home has certain expectations about how much work should be getting done during the work day. When these expectations are not met, it can cause conflict. Also, the stay at home parent often feels exhausted by childrearing activities and has less energy to devote to household responsibilities. When these issues are not ironed out, anger and resentment can build.
Conflict about household responsibilities is abundant among families where both partners work as well.  The stress of putting in hours at the office can wreak havoc on energy levels when it comes to putting in work around the house. It's important to talk about setting up a plan to conquer domestic duties so that you can still have a life outside of work and chores.
Often, it's women who feel stressed about the domestic duties.  Women commonly complain about the husband not helping them around the house. It is important to recognize that it isn't just one person's job to do everything and the other person's job to help. Instead, it is imperative that both of you develop an agreed upon plan on how to conquer household responsibilities.
Set Your Priorities
It's important to sit down and discuss the household duties. Discuss what each of you sees as a priority. Perhaps it is important for one person to have the bed made each day. For the other partner, home cooked meals and laundry may take priority over everything else. Once you determine what sorts of things are most important, you can talk about what things you might feel comfortable letting go.
Develop a Weekly Plan
Consider creating a plan by the week. You don't have to decide that one of you always cooks while your partner always does the dishes. Instead, take a look at your schedules for the week. Determine who can do which chores that week.
Create a written list and post it. Then avoid reminding or nagging one another. Instead, focus on holding up your end of the bargain, regardless of what your spouse does. Then at the end of the week sit down and re-visit how you both did. Discuss what didn't get done and determine how to plan for the next week. Problem-solve how to get the chores done that weren't completed over the week.
Overcoming Resistance
Often, one person in the marriage has a higher tolerance for a messy house than the other person. If this is the case, talk openly about your feelings and concerns.  Sometimes the person who can tolerate a messier house feels the other person gets too stressed about cleanliness while the other person blames their partner for being a slob. See if you can strike a balance so that each person can feel comfortable living in the home.
If you and your partner can't agree, engage in some problem-solving. Is it possible to hire someone to do some of the chores? It may require you to pick up some over time at the office or may mean you have to give up some other extras. However, if it means you can get along better, it might be a good investment.
Also, determine if there are some things you can let go of. This can be difficult if you are used to always getting things clean and tidy. Try to remind yourself that if you don't make dinner a few nights a week, if your bed doesn't always get made and your carpets aren't vacuumed, nothing terrible will happen. Other times it makes sense to organize your house in order to cut down on the time it takes you to do chores. If your house has too many belongings it can be nearly impossible to keep it neat and clean.
Remember that your spouse may not view a mess the same way you do. It may cause you more stress than it does your spouse. Your ideas about cleaning may be very different and neither of you is right or wrong. Instead, it means you just have different priorities when it comes to spending your time cleaning.