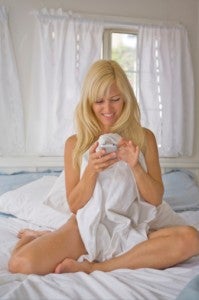 Most couples never sit down and discuss what specifically constitutes cheating within their relationship. However, different couples consider different things to be an act of infidelity. It's important to recognize what you would consider to be unacceptable behaviors.
In an age of increased technology, there are many more opportunities for couples to engage in secret behaviors. The news is full of politicians caught having secret affairs. Many affairs start with people who use technology to begin a secret relationship. The internet offers many opportunities for people to anonymously post personal ads or answer them. Pictures can be sent discreetly. And texting and tweeting allow for ongoing secretive communication.
Are you engaging in any behaviors that your spouse is not aware of? If so, it is more than likely an act of infidelity. Even if t he relationship has never become physical, or if you have never met the other person, it could still be an affair. Ask yourself, "would my spouse be okay with this?" If so, tell them about your behaviors.  If you aren't willing to talk about, it is a sure sign that it is infidelity.
Perhaps you've chatted online and your partner is not aware that you have an online "friend." Or maybe you've had sexual conversations with people online or looked at pornography without your partner's knowledge. Or maybe you've sent racy pictures of yourself to others or received photos.
Or maybe you are using technology to talk to people that you knew from your past. Perhaps you started using Facebook to talk to a former boyfriend. Or maybe you find yourself texting a same sex friend frequently throughout the day.
Whatever the case may be, keeping secrets from your spouse will hurt your relationship. Talk to your spouse about what behaviors are acceptable and unacceptable within the marriage. If you are struggling with these issues, therapy can be helpful, especially if you have developed an addiction.