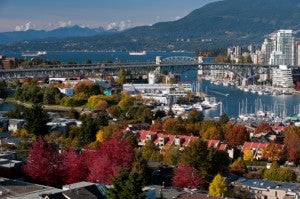 Like the United States, Canada is diverse from end to end. In the Maritime Provinces, there's a kind of ruggedness that comes from living near the North Atlantic. Then there's the French-ness of places like Quebec City and Montreal, the urban atmosphere of Toronto and Ottawa, the rough-and-tumble Calgary, and – finally – there's Vancouver.
One of the most popular destinations in Canada, Vancouver feels different from most of Canada's other large cities. Surrounded by plenty of water and boasting lovely stretches of green area, the city has plenty of oases, but is also a thriving metropolis where you can shop, dine, and play the night away. Add to that the friendly locals who are more than eager to make your stay a pleasant one and you've got an ideal destination for a fun and romantic getaway.
A City of Contrasts
 Take a look at a map of Vancouver and you'll see that certain parts of the city are as different as night and day. The downtown area, laid out in a grid that makes it pretty easy to find your way around, has a number of distinct neighborhoods that all have something a little unique to offer.
Granville Island – Granville is home to a bustling public market that includes wonderful stores, eateries, bakeries, and more. (Be sure to stop in Terra Breads for some of the best artisan loaves you've ever tasted!) Quite often, visitors to the market are treated to a bevy of street musicians entertaining the crowds while peddling their latest CD. Stop and listen! And be sure to wonder out of the public market for a look down Granville's side streets.
Chinatown – The second-largest Chinatown in North America (San Francisco holds the first-place honor), Vancouver's Chinese neighborhood is a fun place to shop and to indulge in REAL Chinese food. In addition, you and your sweetheart will want to make a stop at the Dr. Sun Yat Sen Classical Chinese Garden. This charming garden does exactly what it's supposed to do – offer peace and tranquility to its visitors, despite the fact that it's in the middle of the city. A must see!
Yaletown – This is a very hip neighborhood, ideal for couples who might enjoy dining and shopping in old converted warehouses and other unique heritage buildings. This waterfront community along False Creek hosted Expo 86 and, as such, experienced a lot of rebirth at that time. This is also where you'll want to head if you're into the nightlife scene.
Gastown – Named for "Gassy Jack" Deighton – do ask someone to tell you the story – this neighborhood is full of history and – as such – you can often locate walking tours of this area, led by fun and knowledgeable guides that will fill you with facts. Admire the Victorian architecture of this region and be sure to snap a few photos of the Gastown Steam Clock.
Robson Street – On Robson between Burrard and Jervis, you'll find some of the greatest shopping on the West Coast. You'll see a little of everything here, from recognizable chain retailers to stores full of designer clothing to independently-owned boutiques. There are also plenty of places to stop and grab a bite or a cup of coffee or tea.
A Great Big Park
Look at that Vancouver map again and you'll notice a huge green area at the north tip of the city. For many Vancouverites, that large slab of green is an oasis from the hubbub of the city. Called Stanley Park in honor of Lord Stanley of Preston, the once governor-general of Canada, it's a place to sit and relax as well as a location to enjoy an abundance of recreational activities.
Have your camera ready because, when you arrive, you'll be greeted by massive First Nations Totem Poles that attest to the importance of Canada's native tribes. A seawall circles the park's perimeter, inviting visitors to walk, run, cycle, or indulge in a little in-line skating. There's also a seaside swimming pool, a beach area, tennis courts, an 18-hole chip and putt golf course, and simply plenty of room to roam and enjoy some alone time.
For some extra fun, take your love by the hand and lead him/her to Stanley Park's wonderful aquarium – the Vancouver Marine Science Center – a fun and interesting facility with both inside and outside exhibits and several daily shows.

Watch the Sunset
Because of its location, Vancouver is a wonderful place to watch the sun set – though in the summer months it happens quite late. Along the waterfront, at places like the appropriately-named Sunset Beach, you'll find a crowd gathered daily for the spectacle, especially on the weekends.
You might also consider taking a trek to a more private place to watch the sun sink below the horizon. Places like little Lighthouse Park are ideal and you most likely won't be part of a crowd.
Or perhaps a ride to the top of the Harbour Centre Tower is more your style. Now known as the Vancouver Lookout, it's open day and night and offers a 360-degree panoramic view of the city and the surrounding water and mountains. Buy a ticket in the morning and return as many times as you want on that same day. During the summer, it remains open until 10:30 pm.
When to Go
Vancouver really is a four-season destination. When you go will depend on what you want to do while you're there. Winters are mostly mild but can – at times – be very cold. Spring is fun because – as the locals are sure to let you know – you can ski at nearby Whistler Mountain and play golf on the same day. Fall is very comfortable and good for sightseeing. Summer is usually comfortable as well – rarely overly hot – but is definitely more crowded. Nonetheless, it's a good time for enjoying festivals and other special events.