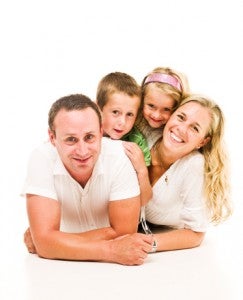 Differences in parenting ideas can be a major source of conflict for many couples. People often have different views about what strategies work best. They also have different ideas about parenting philosophies in general.
Parenting requires a lot of flexibility and parents must learn to adapt to their changing needs. Each child may respond very differently to the rules and expectations. Often, what works with one child does not work with another. As children grow, some parenting strategies become less effective. Clashes about parenting can create ongoing marital difficulties if they are not dealt with successfully.
Sometimes parents develop rigid views about how to best raise children. Their views may be in direct contrast to the other person's view. One person may want to offer a great deal of discipline while the other person wants to ensure the children have a lot of fun. For example, one person may think, "children need freedom to make their own choices and should be allowed to be kids." The other person may think, "children require a lot of structure to help them become productive members of society."
Compromise can be an important strategy when parenting. Recognizing that children need to have discipline and fun in order to grow into healthy adults. However, sometimes each person has difficulty being willing to meet their partner half way. For example, a more strict parent might think, "If I back down at all, the children will run all over us." The less strict parent might think, "If I become more authoritarian, the kids will hate me and have a horrible childhood."
Recognizing that compromise is not likely to lead to a catastrophe can make it much easier to make some changes. Also, practicing being flexible can be a good reminder of the importance of flexibility in parenting. Consider experimenting with some changes to prove that disaster will not result.
Be willing to admit that your partner may be right when it comes to parenting techniques (and other issues). Remember that raising children isn't about who is right or wrong. Instead, work together as a team instead of competing against one another.