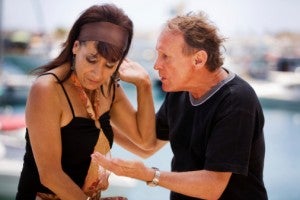 Verbal abuse can be a more subtle form of abuse that may be more difficult to recognize at times. It may include outright name calling, swearing, and threats, or it may involve other tactics to make the other partner feel bad. It impacts people's feelings of self-worth, can make the person feel crazy, and sometimes causes shame or embarrassment.
The most obvious form of verbal abuse is name calling. An abuser may state they are calling the victim names "for your own good." They may also say that they are protecting the victim because "you can't handle things on your own." The abuser may yell, swear, and scream, or they may talk calmly while belittling the victim. Threats are often used to keep the victim under control. The abuser may claim to only be joking.
Abusers usually blame the victim. They will say it is the victim's fault for causing them to become so angry. They tend to dismiss their partner's feelings and not take any responsibility for their own behaviors. They often play on the victim's emotions to manipulate the victim. This is often true when the other person threatens to leave or does leave. They promise to change and they do often appear to make changes, but it typically only lasts a short while.
Victims of verbal abuse often feel depressed and anxious because they feel like they are walking around on eggshells all the time. They may believe what their partner says about them, such as they are weak, stupid, or crazy. Such words sink in after a while and make the person question everything, and they may doubt their ability to leave and live on their own. Sometimes victims think their situation is not that bad and justify tolerating this behavior by saying, "at least I don't get hit." Verbal abuse can be just as damaging as physical abuse.
If you are in an emotionally abusive relationship, seek help. Both men and women can be victims of verbal abuse. Professional counseling may help you learn how to safely change your situation. Encourage your partner to seek help as well, but if they refuse, seek help for yourself.