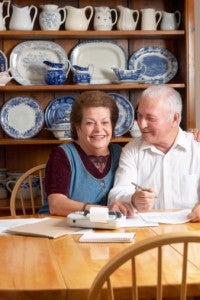 When determining a budget, many couples ask if they should keep separate checking accounts. Studies show that most couples who are entering into a second marriage do keep almost all of their money separate. However, how do you share your life together while not sharing your money?
Being married means sharing in the responsibilities of managing a budget. This means sharing money with one another and making financial decisions based on what is best for the family. Factors such as who makes the most money shouldn't impact the budget. Instead, the major financial decisions should be made together.
It is likely that both don't always agree on how to spend your money. Perhaps you prefer to pack your lunch everyday while your spouse eats out. Or you make coffee at home and your spouse splurges at Starbucks. Or maybe you get tired of hearing your spouse react to a new outfit you bought or how much you spent on your neice's birthday present.
When you decide on your family budget, it may make sense to factor in some individual spending money. This is money that you can spend on whatever you want, however, you want to spend it without your spouse interfering. For some couples, this may just be $10 a month for a little splurge. For other couples, it may be a more substantial amount. It is important that both of you agree on an amount that you can afford, whatever that may be.
After you agree on how much money you are each free to spend in any way you want, it  is important to follow through with this. Don't give your spouse a hard time for spending in ways you wouldn't. Remember, that the point of this is to allow your spouse the freedom to spend the money freely. So don't give him a hard time for purchasing a video game or her a hard time for buying another pair of shoes.
Financial problems can be a big burden for many couples. The bulk of the money should be shared, but setting money aside for individual spending can help many couples. It can end much of the conflict about money and can give each person some control over their own spending habits.