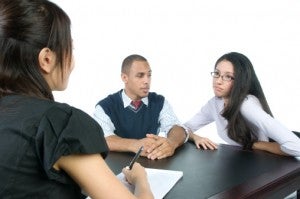 People offer a variety of reasons for not wanting to go to marriage counseling. It's important to consider your reasons to determine if there is actually a bigger underlying problem. For example, sometimes people use excuses because they are afraid to change or don't want to face the facts. But other times, people do genuinely think they have some big barriers that prevent them from being able to attend. It is important to educate yourself about counseling so you can make an informed decision.
Time
Many people feel like they just don't have the time to go to marriage counseling. However, if you can take time out to work on your marriage, it may be a sign that your marriage isn't high enough on your priority list. What other sorts of things take priority over attending counseling? If you work long hours or you and your spouse have different schedules, work to find a counselor who can meet your needs. Many counselors offer evening appointments and some offer weekend appointments. Online counseling may be another option for you.
Money
Sometimes people don't have insurance that covers counseling. It can be expensive, and even with insurance co-pays can add up. However, marriage counseling doesn't sentence you to a weekly appointment for the rest of your life. If you ask for homework assignments and activities to practice in between sessions, you'll likely reduce the amount of sessions you will need. Ask the counselor for suggestions on workbooks or self-help books that you can work through on your own time as well. Remember, that a divorce will likely cost you far more than a few counseling sessions.
My Spouse Won't Go With Me
If your spouse refuses to attend counseling with you, it doesn't mean you can't still go by yourself. A relationship takes two people, but sometimes one person making a change can create a change in the marriage. Meet with a counselor on your own to learn about things you can do to improve your marriage and address the issues on your own.
It's My Spouse Who Needs to Change
If you aren't willing to change any of your own behaviors, don't expect your spouse to change. It's likely that both of you contribute to the problems within the relationship.  It is important for you to be open to examining your own behaviors and your role in the marriage.
Talking to Someone Won't Help
Simply talking to a counselor won't create a miracle in your marriage. Counseling doesn't mean you'll spend the hour just venting or complaining about your spouse. Instead, a counselor can help you learn new skills and strategies that you will need to practice at home.
Counseling is for Weak People
Counseling isn't just for weak people. When a person attends counseling it shows that they have the courage to address their issues. It takes a certain amount of strength to make changes and to admit you would like help.
People Will Judge Me
There can be a stigma with counseling and sometimes people are afraid that their friends, family and co-workers might judge them. However, if anyone judges you for trying to improve your marriage, you might want to reconsider how much their opinion matters to you. Also, remember that you don't have to announce that you are attending counseling to anyone.
I'm Too Embarrassed to Tell a Counselor Our Problems
Problems within the marriage can be very private. Talking to a stranger about your conflicts, your fears, sexual problems, and other marital issues can feel embarrassing. However, counselors hear all sorts of problems all the time. They can listen non-judgmentally and provide you with feedback. It's unlikely you'll have anything to share that they haven't heard before, even if you think it is really embarrassing. Counselors frequently hear about a variety of sexual problems that people are often fearful to talk about for fear it is unacceptable or weird.
Consider Your Options
If you and your spouse are considering marriage counseling, it is important to consider your options. Discuss the pros and cons of attending counseling along with the pros and cons of not attending. Discuss what options would make you most likely to attend. For example, if you both feel most comfortable with a male therapist or if you need evening appointments, discuss how to make sure that you can find a counselor to meet your needs.
If you find yourself making excuses to avoid counseling, take a look to see if there are some other underlying fears. Are you afraid of changing? Are you afraid it will make your marriage worse? Are you concerned it won't work? Most barriers to counseling can be overcome. But if there are some other underlying reasons that are causing you to avoid counseling, it is important to recognize these fears and address them.