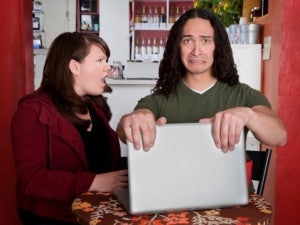 Pornography can be a big issue in some marriages. Often, it's the men who want to view it and the wives who aren't comfortable with it. It leads to some people asking, is pornography really bad for a marriage?
One of the potential problems with pornography is that it can become addictive. Watching pornographic images increases dopamine levels in the brain, just like many drugs do. This can lead to an addiction. Just like other addictions, people have to get more of it in order to satisfy their needs.
It can start to interfere with other areas of a person's life. For example, a person may prefer spending more time watching pornography rather than spending time with friends and family. When some people really become addicted it can lead to risky behaviors such as viewing pornography at work.
It can sometimes start to replace the desire for actual intimacy. When people start to watch a lot of pornography, they may begin to prefer watching pornography over having sexual relations with their spouse. This can lead to lack of emotional intimacy as well.
Sometimes the other partner is repulsed by pornography. This can lead to fights and arguments as well as a lack of desire to have a sexual relationship. It's hard to enjoy a sexual relationship with a person who is engaging in sexual behavior that causes repulsion.
It can cause boredom within the marriage as well. Watching various sex acts repeatedly can cause a person to have difficulty becoming aroused during normal sexual activity. Some people report that it interferes with their ability to be attracted to their spouse as well.
Pornography can be degrading to women. The way that females are portrayed in pornography is often dehumanizing, and at times, violent. Watching such images repeatedly can make having a healthy, romantic relationship very difficult.
If pornography is causing problems in your marriage, it is important to get help. If you have an addiction to pornography, therapy can help you deal with this addiction. If your spouse is watching pornography and it is causing marital problems and refuses to seek help, consider getting counseling for yourself. It can help you find ways to deal with your spouse's behaviors.