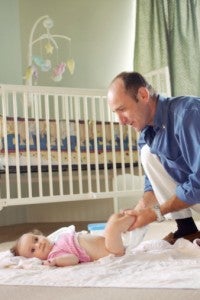 Many couples find themselves becoming distanced after the birth of their first baby. There are some strategies couples can use to help them stay connected after bringing home a new member of the family. It can take some extra time and effort to keep the intimacy and connection.
Sometimes fathers feel left out when a new baby is brought home. Typically, women receive a lot of support from friends and family members throughout the pregnancy and after the baby's birth. Men, however, often don't receive any support. This may lead to men further distancing themselves by not being home as much and by not putting in as much quality time with the baby.
Mothers can sometimes grow resentful. They may be the primary caretaker, which may be necessary if they are breastfeeding. However, feelings of resentment can grow when their spouse is able to get more sleep and have more freedom.
Sometimes resentment can grow because of the differences in roles. Mothers sometimes feel like they have to bathe, dress, feed, and change the baby while fathers get to just play with them. Fathers by nature tend to use play as a form of bonding with their children.
After the birth of a baby, it is important to make time to communicate with one another. Sharing your needs with your partner can lead to conversation about how to meet each other's needs. It can also help you to solve problems as they arise. It is important to address them as they come up rather than stockpiling them for all at once.
Making the change from being a couple to a three person family can be a big adjustment for many couples. If your marriage is not strong prior to the birth of a baby, the stress can make the relationship worse. Counseling prior to having a baby can help ensure that your relationship is strong. It can also help you to establish your expectations prior to the birth of the baby. After the birth of a baby, couples counseling can help you to find strategies to resolve conflict and stay connected with each other.