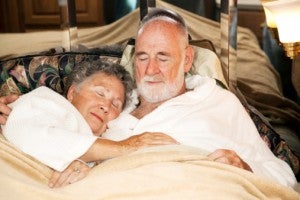 There are many theories about sleep and dreams but there's still a lot of mystery around this topic for psychologists. What we do know for sure is that finding time to reconnect at the end of each day is an easy way to stay connected and increase your intimacy. For some couples, the few minutes they spend talking before bed, may be some of the only moments they have alone together all day. Spending a few minutes connecting and then sleeping next to one another can help the two of you stay close.
Couples who work different hours may have to put some extra effort into sleeping the same times. Other people have an innate preference for being a night owl while others prefer to go to sleep early. Whatever your differences, work together to find a way to make your sleep habits coincide.
Ben worked long hours at the office. Kristy worked odd hours at her job and sometimes had to be at work early in the morning and other times, she worked until late evening. The two of them agreed early on in their marriage that they would make sure they went to sleep together at night. Kristy would sometimes read while Ben fell asleep if she preferred to stay up a little later. They were able to negotiate a schedule that worked for them.
Develop some nighttime rituals together. This may mean both of you spend a few minutes reading quietly next to each other. Or perhaps you talk about your day prior to falling asleep. Cuddling while you watch some television is another way to stay close. Agree that you'll turn off the television at a particular time and try to spend some time just remaining physically close.
Some couples are able to remain close while they sleep. Other people toss and turn and don't stay in one place. It's okay if you can't stay physically touching all night. However, there seems to be something about sleeping next to one another that helps couples stay close.