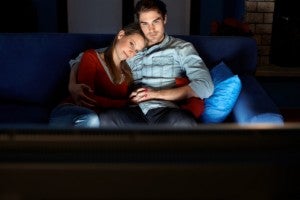 First, a disclaimer:  I do not have any financial investment nor do I profit from the movies or TV shows I'm going to recommend in this post.  There are two movies going around right now that I think raise issues for heterosexual couples and their children that are worth bringing to your attention.   They raise issues of fidelity, generations, mid-life crises, and gender differences. Since both are comedies, you might as well enjoy them.
The first is "Date Night", with Steve Carrel and Tina Fey.  They cover this couples' relationship in a high stress situation.  The story line implicitly deals with the ways in which women and men talk and have different roles. 
The second is "Crazy, Stupid Love", with Steve Carrel and Julianne Moore, Ryan Gosling, and Emma Stone.  This film is a little more substantial.  It starts off as a family in crisis—the couple is going to separate.  The film focuses more on the man in the marriage, not the woman.  Nevertheless, it deals with issues about marrying early, mid-life crises for women as well as men, and dating relationships for people in their twenties.  There is also a sidebar story about younger young teens and how they begin to handle their first infatuations and loves.
I think both films—and there are others—are good taking off places to talk to your partner and your adult children about how s/he sees things and what they're going through.  For older couples, I think it gives them a chance to understand the generational changes that have taken place since they were dating.
As for TV,  many of you have already seen "Hot in Cleveland", a sitcom on TV Land.  It stars Betty White, Valerie Bertinelli, Wendy Malick, and Jane Leeves. If you haven't, you should: it raises similar concerns for women in their late forties and early fifties as well as their eighties.  Also, the show, "Men of a Certain Age", with Ray Romano, Scott Bakula, and Andre Braugher, raises similar issues for men around fifty, when life has somewhat disappointed them. Lastly, I would urge you to see "Happily Divorced", with Fran Drescher.  She plays a part of herself—a woman who divorces her husband after many years of marriage because he comes out as a gay man. They are still close and each is starting to date again.  Rita Moreno plays her mom and she is quite realistic.
Watch the shows, see how they help portray and address your issues, and discuss them with your "relevant people."  And enjoy!