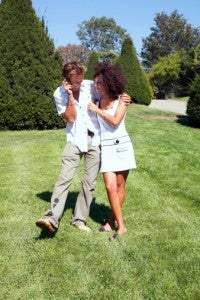 Unfortunately, there are times in a marriage when one person is unhappy in the relationship. Yet, when asked how the person's spouse feels about the marriage, the other spouse is often content with the way things are. So then the question becomes, can one person making changes make a difference in the relationship?
Sometimes when a person feels like there is no sense in making any changes if his/her significant other won't change. However, this attitude is the one way to guarantee the relationship won't be better. If one person makes some changes, it will likely force some changes within the relationship.
For example, if you don't like the way your spouse treats you, change how you respond. If you dislike your spouse's behaviors, change your behaviors. If you feel like you argue too much, stop arguing. Continuing to do what you normally do, will continue the problem. But mixing things up a bit can make a big difference.
Picture a couple who argues frequently about household tasks. The wife is a stay-at-home mother who becomes frustrated that her husband doesn't help out with chores in the evening when he returns home from work. She spends much of her days thinking about how fortunate he is to be interacting with adults each day and she feels resentful as she changes diapers and cleans up after the children. By the time he returns home, she tends to nag him, picks fights, and reminds him that her job is not easy. He tends to retreat and becomes more withdrawn. Continuing to do this everyday will likely produce the same behavior from her husband.
However, if she decided that instead of complaining when he walked in the door, she greeted him in a friendly way and asked him about his day, he might become more engaged. If she invited him, instead of nagging him, to play with her and the children, she might get different results. He may become more talkative and together they could work on a solution to help her feel better, such as setting up a time for her to get away and visit with friends.
Your spouse's behaviors are often a reaction to your behaviors. If you are not seeing any changes in how your spouse behaves, try changing your behaviors as an experiment. Don't expect immediate results, but stick with it and see if you can improve your marriage.