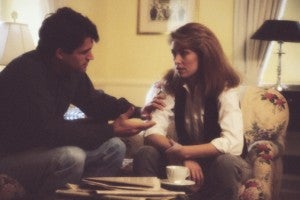 Sometimes people say that their partner just does not know how to communicate. Often, women will say, "my husband just does not know how to express himself." It is actually impossible to not communicate at all. Even if he's not talking, he's still communicating.
The majority of communication is actually non-verbal. So if your partner isn't talking much, it doesn't mean he's not communicating. It may be true that he talks less than you do, but his personality may be such that he tends to think about things a lot more than talk about them. There's nothing wrong with internalizing issues prior to talking about them.
If your partner does not talk a lot, pay attention to his non-verbal communication. Body language, eye contact, and even what he is wearing can give you a lot of information. Look at how he responds when you talk, not just listen. Does he shrug his shoulders? Make eye contact? Look the other way? All these sorts of behaviors certainly communicate something.
Just because your partner communicates differently than you do, does not mean his style of communicating is wrong. It just might be different. Learning how to understand your partner's communication is more important than trying to get him to communicate the same way that you do.
Your partner may be communicating in a way that you don't understand. Perhaps this means that you need to work harder at learning how to read your partner's communication efforts. Remember that part of communication is listening. We have two ears and only one mouth for a reason. Learning how to effectively listen to your partner can make a big difference in how your partner communicates with you.
Ask your partner about how he perceives your communication skills. Perhaps he'll say he doesn't talk because you don't listen. Or maybe he'll say he talks a lot, but if it isn't what you want to hear, you dismiss him. Or maybe he thinks he talks plenty and that's just his personality. Whatever it is, remember that he is communicating, it just might not be in the same fashion that you tend to communicate.