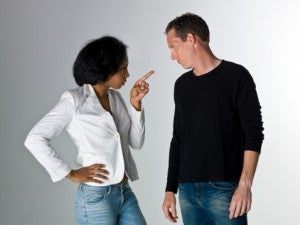 There may be times that you find yourself having a conflict with your partner and he uses some "dirty tricks" instead of fighting fair. Perhaps he isn't willing to work on solving the issue or maybe he's behaving in a way that is unacceptable. Maybe you are trying to remain calm and use the skills you have to solve the conflict but don't know what to do when these "dirty tricks" emerge.
Maybe during an argument your spouse starts to call you names. You may be tempted to call her names back out of anger. However, this isn't likely to get anything resolved any time soon. The best approach is to be assertive and point out what is happening.  Make a statement about how you are talking about the issue.
Changing the focus to how you are arguing instead of what you are arguing about can help you to clarify the "rules of arguing." For example, if your partner calls you a name, respond by saying, "Hold on. You are calling me names and I don't deserve to be called names. Let's try to focus on the issue without attacking each other."
Just as a lawyer objects in the courthouse, offering your objection can go a long way. Make it known that your partner's behaviors are unacceptable and that you aren't going to accept being called names or treated poorly.
Another "dirty trick" might include a spouse who is always bringing up a past mistake you've made. Perhaps you had some financial problems prior to your marriage, and no matter what you are fighting about, your partner loves to bring that up.
If your partner tries to bring up the past, respond assertively and use clear communication. Say something such as, "we are discussing the plans for next week. My past financial problems have nothing to do with the plan for next week. Let's keep the subject on the here and now."
If you are having difficulty managing conflict due to unfair fighting, a therapist can help. Some individual work may be helpful as well as some couples therapy. Knowing how to be able to discuss a conflict and resolve the issues effectively are very important for any marriage.