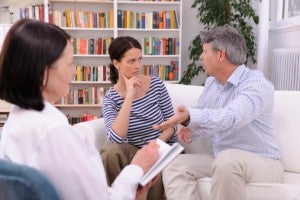 Looking for a marriage counselor can be difficult and at times, downright confusing. And at a time when people are stressed and looking for help, they don't need to deal with difficulties and confusion. Here are some answers to some of the most common questions asked about how to find a marriage counselor.
What sort of credentials should a marriage counselor have?
When looking for counselors, there are a variety of initials and degrees which can make things seem confusing. Some common credentials that many marriage counselors have include LCSW (licensed clinical social worker), LCPC (licensed clinical professional counselor), LMFT (licensed marriage and family therapist), PhD (doctorate of philosophy) or PsyD (doctor of psychology).
There isn't one set of credentials that means someone will be a better marriage counselor. Instead, it just means they have had slightly different educational experiences and training. There isn't a degree program specifically for marriage counselors. Instead, people become general counselors and some choose to specialize in marriage counseling.
The most important thing is to make sure your counselor has some credentials. Some states allow anyone off the street to hang out a sign and call themself a counselor or "life coach." So make sure there is an actual licensing board that oversees the counselor and ensures that they have the needed education and ongoing training. Also, a licensing board can provide you with basic information about how long a person has been in practice and whether or not the person has had any complaints against them.
How do I find a marriage counselor?
You can look for a marriage counselor several different ways. One good place to start is to talk to your health insurance company. They should be able to provide you with a list of providers in your area that they contract with who specialize in marriage counseling.
Another good way to gain information about marriage counselors is to talk to your primary care physician. Doctors should have information about local community resources and can often provide you with information on some of the best counselors in the area.
A quick search on the internet or in the phone book should offer you some options as well. Look for search terms such as marriage counselor, couples counselor, marriage therapist etc. to find a few options in your area.
It's important to remember that you should have choices of who you pick for a counselor. Most counselors will allow you ask some questions over the phone and gain some basic information about their training and education before attending an initial session. This can help you decide who you may feel more comfortable with.
What should I look for in a marriage counselor?
Marriage counseling requires slightly different skills when compared to individual counseling. Helping a couple requires the counselor to be able to identify skill deficits, teach new skills, and help the couple grow together all the while helping both partners feel supported. A marriage counselor sometimes has to take on the role of referee and needs to be able to be objective and ensure that no one feels that the counselor is taking sides.
Therefore, it is essential that you find a counselor who has a lot of experience in working with couples. It's important to ask a counselor about their experiences with couples as well as their philosophies on how to work with couples. Remember, that you can always interview your counselor as choosing who to work with is a very important decision for your marriage.
What do we do if we aren't happy with our marriage counselor?
If you are not finding marriage counseling to be helpful, the first step is to talk to your counselor. Although this can be difficult to do, it is important. It's okay to tell your counselor that you aren't feeling like it is helpful to your marriage. Your counselor may be willing to change strategies or work with you to find exercises that are more successful and helpful. Giving feedback to your counselor is important and a good counselor will welcome your input.
Resist the urge to just stop attending appointments. Instead, talk to your spouse and see if you can work together on solving the problem. This can be a great exercise in improving your marriage and working together!
If talking to your counselor is not successful, shop around for a new counselor. When you find a new counselor, explain what was not helpful about your past experience and keep in mind what you hope to learn or gain by attending. Providing this information to your counselor can ensure that everyone is on the same page when it comes to expectations in counseling.