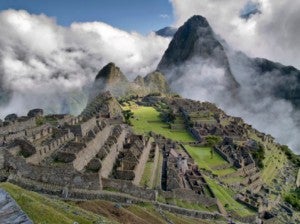 Combining history, intrigue, beautiful natural landscapes, and plenty of man-made fun as well, Peru is a lively and interesting destination for couples who are looking for a unique place to go for a second honeymoon or simply a romantic trip that will allow plenty of time together exploring one of the world's most interesting destinations.
Not for everyone, Peru is one of South America's top tourist countries, attracting the unique traveling who's in search of a little bit of everything, from cosmopolitan cities to amazing ancient sites that'll leave you breathless. Then there's a little of everything else in between, including great restaurants, fun nightlife, adventure activities, water sports, beaches…you name it, Peru's got it.
Americans often overlook South America as a prime vacation destination, opting instead for trips to Europe. But Peru has so much to offer the traveler that even a two-week vacation is barely enough time to drink in the fabulousness of this fascinating country that was once home to a thriving Inca population that was quite obviously way ahead of its time, evident by the presence of such awesome sites as Machu Picchu, a must-see for anyone heading to Peru

Things to See
Historical and natural attractions are among the most visited in Peru. At the top of the list, of course, is Machu Picchu, that great Inca settlement – a UNESCO World Heritage Site – that's situated in the middle of the Andes Mountains. Experts say about 1,200 people once lived in the 200 or so buildings there. If you're the hardy type, you can hike the 28-mile Inca Trail to get there, or you can take the 4-hour train ride from Cuzco, which is a lot easier.
Speaking of Cuzco…you'll want to make sure to go there as well and check out "The Historical Capital of Peru." (Lima is the modern capital.) Visit a few remains of the Inca Empire, see the beautiful Cathedral of Santa Domingo, and attend one of the many festivals that take place there on a regular basis.
Want to really go off the proverbial beaten track? Visit Iquitos – the largest city in the Peruvian rain forest, accessible only be boat or airplane. Though not as popular as Cuzco or Machu Picchu, tourism is on the rise there and visitors can take advantage of several spas, a local zoological park, and a handful of small museums. But to truly appreciate the biodiversity of the area, head to the Pacaya Samaria Wildlife Reserve, a joy for nature lovers with its hundreds of species of birds and other animals. Bring a camera!
There is a long list of other things to see as well. Before you embark on your journey, research natural and historic sites such as the Nazca Lines, Colca Canyon, Chan Chan, the Floating Islands of Titicaca, La Calera Hot Springs, and a host of other attractions as well to see which you'd like to include on your itinerary.
If you want to enjoy some city life as well, you'll find that the capital city of Lima is quite metropolitan. Sitting on the east-central coast overlooking the Pacific Ocean, it's a diverse city with a thriving cultural district and lively downtown area, though some of it is quite industrial. It has also gradually become a popular venue for well-known U.S. entertainers and has recently been dubbed the "Gastronomical Capital of the Americas," offering some stellar restaurants.
Lima's also perfect for couples who are seeking a little time on the beach. Head to the southern portion of the city for the best beach activities. Check out San Pedro Beach for surfing and Santa Maria or Punta Hermosa for swimming and sunning.
Where to Stay
If you want to splurge on romantic lodging, Lima- with its glass skyscrapers and abundant Art Nouveau architecture – is the place to do that. You may find some good luxury accommodations in Cusco or Arequipa as well. Look for Orient-Express Hotels and Sonesta Hotels for excellent amenities.
However, because many people go to Peru to enjoy the outdoors, less ritzy lodging is more the norm. Remember, however, that the country's lodging system might be a little confusing. Look for "hotels" for the best accommodations, followed by "hostals" (not to be confused with U.S.-type hostels), and then "pensiones", the latter of which are very basic. Camping opportunities are abundant, so if you enjoying snuggling up with each other in a tent or cozy cabin, you'll find plenty of those.
Peru Travel Hints
You'll need to understand that traveling in Peru is not like traveling in the U.S., and you need to be willing to put up with some potential roadblocks that might sometimes make your trip a little less than pleasant. But, in the long run, all the stumbling blocks are quite worth it in order to drink in the true beauty and mystery of this amazing country.
First of all, if you're going to the jungle areas of the country, you'll want to talk to your doctor about inoculations for malaria and yellow fever, which are still prevalent in the Amazon region. Secondly, you'll need to be ready to perhaps deal with a bout of altitude sickness while visiting places like Machu Picchu. Be sure to drink lots of fluids but stick with bottled water. After you arrive in the highlands, rest for a day or two before doing anything strenuous, like hiking or climbing, to avoid altitude-related problems.
Street crime can also be a problem in parts of Peru, particularly the cities, so be diligent, especially aboard buses or trains. Women are often victims of sexual advances and groping, so women shouldn't travel alone, even if their husband is back at the hotel waiting for them and they're only heading down the street to that interesting store they passed earlier that day.
Remember, every destination has its demons, and as long as you're observant and plan well before you arrive, your Peru trip should proceed without a hitch!