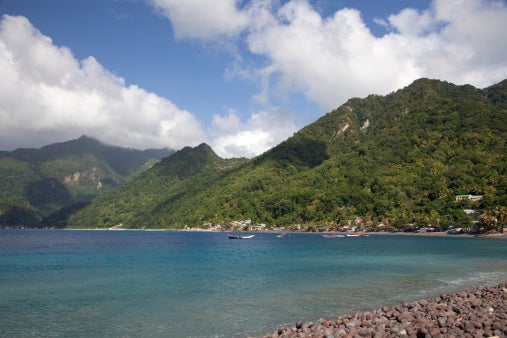 Most people, especially in the U.S., know nothing about the amazing island of Dominica. It's commonly confused with that other island that has a similar name – the Dominican Republic, a vacation destination that shares land with neighboring Haiti. But Dominica – an island nation in the Lesser Antilles – is not only miles away from the Dominican Republic geographically speaking but also in mood and attitude. A laid-back island known for its amazing natural beauty, Dominica calls to people who don't want to spend their time in the Caribbean merely sitting on the beach…though there's plenty of that to be done. Mainly, however, it attracts vacationers who want a side of adventure with their relaxation.
A Real Dive
Couples who head to Dominica for some down time generally include at least one member of the pair who loves to dive. That's because this wonderful island – once owned by the British – is a mecca for those who love to SCUBA dive. As a matter of fact, it's ranked as one of the top 5 dive destinations in the world.
Happily, Dominica (pronounced Dom- in-EEK-ah) has a government that fiercely protects its vast underwater domain, declaring much of its marine reserves to be protected property. And what a joy that domain is to explore! Just like above the ground in Dominica, the sites below the water include canyons and cliffs, caverns, steep walls, craters, boulder fields, and more, all of which you can explore with the help of one of the many outfitters on the island that lead diving trips. Take advantage of them! They know just where to take you for the best diving.
Many visitors say SCUBA in Dominica is unlike anywhere else in the world and the options for exploring are many. For an especially incredible experience, ask about the "Champagne" dive site, which lets you swim through warm, bubbly waters created by geothermal vents. Very cool!
Other Water Activity
If you like the water but aren't the diving type, there's plenty of other couples activities that you can enjoy while getting wet. If you want to view the sea life without going under water, strap on some snorkeling gear and head out from the beach. Even in fairly shallow water, there's plenty to see.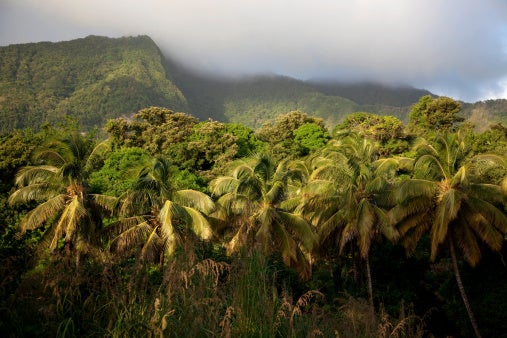 Dominica is also considered one of the world's top whale watching destinations. In fact, sperm whales reside there all year long, so there's nearly always a chance to view them via one of many whale watching tours. Like the undersea life, the whales in Dominica are proudly protected and all whale watch boat tour owners operate under strict codes of conduct.
If you want to paddle your own boat, rent a pair of kayaks for you and your sweetheart. Sea kayaking along the shore provides a unique look at the island and is not only fun but good for you, too. Kayakers can also do some high-altitude paddling on a Freshwater Lake or take a long trek down the Layou, the longest river in Dominica, full of sights including exotic birds and a variety of habitats. Bring the camera!
Lovin' the Land
On the days you prefer to stay dry, there is a wealth of land-based activities in which you can immerse yourself as well. As a matter of fact, Dominica is as big a hit with land-lubbers as it is with those who prefer to be in the water.
Hiking, canyoning, rapelling, biking, zip-lining…all of these are activities that can be enjoyed in abundance on the diverse lands of this beautiful island nation. But remember that, for the most part, the terrain in Dominica is pretty rugged, so these activities certainly aren't for the faint of heart…or body.
If you need a day of relaxation, however, there are activities that you can do that won't take quite so much out of you. For example, the walk to beautiful Trafalgar Falls takes just 15-20 minutes on a paved path and the reward is breathtaking. You can even swim there! You might also consider a trip to one of the islands many thermal springs, where you and your partner can bask in warm and therapeutic hot mineral pools while oohing and aahing about the surrounding scenery. Check out Ti Gwen Glo Cho, which even has sulphur springs-filled bathtubs for one…or perhaps two.
Other good lazy day activities? Ride the aerial tram through the high-altitude rainforest, visit the 40-acre botanical garden with its hundreds of varieties of tropical flowers and plants, take a stroll through the Old Market and do some bartering for local goods, or simply sit on the beach and soak up the rays. It's all good!
Getting There
Dominica is a popular cruise ship port of call, but if you're flying to the island, you'll most likely need to book a flight to one of the larger neighboring islands such as Antigua, Martinique, or Guadalupe. Then you can catch a puddle-jumper flight to one of Dominica's two small airports.
When to Go
Like much of the Caribbean, Dominica is prone to hurricanes from June through to the end of October, so if you go during that time span, there's a risk of weather ruining your trip. Fall can be rainy, too. If you want to take your chances, however, especially during the summer, rates will be quite low and crowds are non-existent.
Winter and spring, however, are both the most pleasant times to visit, with average temps in the 80s during the day, though the nights can get fairly chilly. You'll pay top dollar during these times of year, but if you plan ahead there are deals to be had. Avoid the holiday season in December if you don't like crowds, and when a cruise ship is in port, it's best to avoid some of the more touristy attractions.