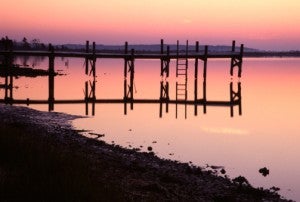 Like most seashore destinations, North Carolina's Outer Banks region is beautiful in the summertime. The water is warm, the restaurants and stores are all open, and the sun seemingly shines every day. But, like most beach locations, it's also crowded. June, July, and August are prime visiting time for families with children, and they come in droves to these beautiful barrier islands, beginning on Memorial Day and ending on Labor Day weekend. That all sounds great if you're traveling with the kids in tow, but if you're a couple looking for a romantic getaway, it's not the ideal situation.
It used to be that there wasn't much choice as far as the best time to visit the Outer Banks (OBX). Once upon a time, stores and restaurants closed when the last summer guest left, but that isn't the case anymore, making this a great couples destination for the months of September, October, and even November, when the weather is still fair and it's still possible to enjoy the beach. As a matter of fact, locals maintain that those arriving in the fall will enjoy some of the best weather the islands have to offer, with temperatures often still climbing into the high 60s in November.
Great Fall Activities
You'll find that kid-focused attractions in the Outer Banks tend to close down after Labor Day, but many adult-oriented activities are still possible to enjoy, even when all the families have gone home.
The beach, for example, is delightful without the summer crowds. If you're looking for a romantic spot, the sand and surf is the place to be. Often, you'll spot just a few other couples or singles out enjoying the beaches of the Outer Banks during the fall months, so it's a great time for sea-shell collecting or some private cuddling on your favorite blanket.
And how about those long walks on the beach? Autumn is a perfect time to enjoy those, too! The sun is still shining but it's not so hot, so walking is comfortable and you'll probably enjoy a lovely breeze as well.
If you enjoy golf, it's also an ideal time to play. Greens fees are lower and you won't have to scramble to get a tee time. In addition, the weather is perfect for golf as you won't be subject to the harsh summer sun or the potential of afternoon thunderstorms.
If a little historic sightseeing is on your docket, you'll find that most of the historic sites and museums on the islands remain open during the autumn months or, in fact, all year long. For example, couples may choose to visit historic Roanoke Island, view the Wright Brothers National Memorial, tour the Graveyard of the Atlantic Museum, head to the lighthouses that dot the islands, or visit the Roanoke Island Maritime Museum or Frisco Native American Museum.
Simply exploring the small island towns and villages of the Outer Banks is a joy in and of itself as well. Places like Duck, Southern Shores, Hatteras, Kitty Hawk, and many of the other villages up and down the islands offer lovely shops, art galleries, and great restaurants for visitors to enjoy. More and more, most of these businesses choose to stay open for a good portion of the year, so – happily – you'll miss the crowds and won't have to wait for a dinner reservation!
In addition, if you prefer something a little more "natural", off-season is a great time to explore the wildlife preserves and refuges on the Outer Banks as well as state parks such as Jockey's Ridge, where you can hang glide together on the largest natural living sand dune on the East Coast. It's tons of fun and a great way to laugh and play together.
Couples might also enjoy some birdwatching and will be able to view a lot of migratory birds that land in the Outer Banks as they make their way from one place to another. Bring along your binoculars and guide books!
Accommodations
One of the major perks of visiting OBX during the off-season (including the spring as well as the fall) is the opportunity to nab a hotel room or vacation rental for just a fraction of the cost of what you'd pay during the summer. As an added plus, there are plenty of options for lodging.
Vacation rentals are a big deal during the summer months. The only drawback is that the islands are full of very large homes – often up to 10 bedrooms – so logical renters for those houses are those traveling with friends or extended family. It isn't quite as easy to find small vacation rentals, though some do exist. See if you can find a small cottage close to the ocean with a fireplace for those chilly nights!
Couples might also consider a bed and breakfast, which adds that personal touch and is often quite romantic and private. (Think about the one in Nicholas Sparks' book, Nights in Rodanthe, set in the town of Rodanthe in the Outer Banks.)  Most offer full breakfast, afternoon snacks or tea, use of bicycles and beach chairs, and much more. The Outer Banks also boasts a number of small inns that offer similar perks.
Wherever you choose to stay, there's no doubt that you'll be awed by the natural beauty of the Outer Banks, undoubtedly a great place to spend some unforgettable moments with that extra special person.