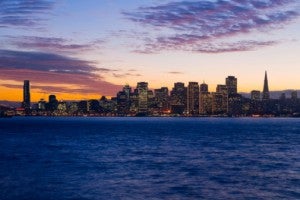 Most travel experts agree…no American city is more romantic than San Francisco. Since 1954, when singer Tony Bennett proclaimed the fact that he "left his heart" in the hilly city by the Bay, flocks of couples have been making their way to this Northern California destination, intent on sharing some memorable moments with each other.
Indeed, what's more beautiful than admiring a view of the sparkling Golden Gate Bridge from the Marin Headlands at sunset? And who wouldn't love a chance to ride side-by-side on one of the city's signature cable cars or enjoy a picnic at lovely Ocean Beach? Or how about a Bay Cruise on the water as the lights of the city appear or cocktails at a restaurant that looks out over the landscape below?
There are a plethora of activities available in San Francisco that'll light a little spark between you and your partner, and chances are you won't even fit it all into one trip. But even a romantic weekend getaway to this wonderful city will serve to reinvigorate your relationship and, hopefully, make you feel like newlyweds.
Romantic Lodging
San Francisco is chock full of fantastic hotels, including top-end establishments as well as accommodations that are more affordable. In general, it's an expensive city, so don't expect to find "cheap" without sacrificing quality. If you can afford to splurge a little, you'll find a number of excellent options.
Some of the finest San Francisco accommodations include the splashy St. Regis Hotel, a 40-story wonder in the SoMa neighborhood. While its minimalist interior is quite lovely, most people stay there for the perks, which include the indulgent Remède Spa – the perfect location for a couples massage – and the fabulous Ame restaurant.
For the ultimate in century-old ritzy elegance, stay at The Fairmont San Francisco, a true exercise in decadence. From the breathtaking lobby to the rooms with spectacular marble bathrooms and city views, this hotel has it all…and then some. Even though it'll be hard to pull yourself away from the luxurious beds, you'll want to take advantage of amenities like the afternoon high tea in the Laurel Court. Simply lovely!
There are a number of B&Bs in San Francisco as well, many of them housed in the city's spectacular Victorian houses. While you won't find amenities like pools and spas there, what you will get is lots of privacy, ornately decorated (and very romantic!) rooms with four-poster beds, tasty full breakfasts, and – in most cases – a lower price than most posh hotels.
The Most Romantic Things to Do in San Francisco
Depending on what kind of getaway you desire as well as your take on the word "romantic," there's a whole list of things to do in San Francisco that fall into the category of "heart-stopping, sweep-me-off-my feet romantic." Consider enjoying one of these activities with your special someone.
Head to Crissy Field – Restored about 10 years ago, this park/natural area provides one of the most stellar views available. Besides that, however, there's a lovely promenade trail, plenty of room for bicycling, and an abundance of flora and fauna to explore. It's also the ideal location for a picnic, and because it's large, it's rarely crowded. Pack up some wine and cheese and arrive at sunset for the best experience.
Book a dinner cruise – There are many opportunities to go boating on San Francisco Bay and a number of outfitters offer evening dinner cruises on the water. Hornblower Cruises, for example, hosts a 3-hour excursion with a 4-course dinner and dancing to live music. Don't want to spend too much? Look for a less costly trip that includes just wine and hors d'oeuvres.
Hike in Muir Woods – Is your idea of romance having the opportunity to commune with nature? Then head to expansive Muir Woods, just 11 miles north of the Golden Gate Bridge. There, couples can hike through giant redwood trees, do a little birdwatching, or participate in a ranger-led moonlight walk. Each year, dozens of couples are married or renew their vows in Muir Woods, too.
Enjoy a drink…and a view – San Francisco has its share of high-rise buildings, and at several of them you can find a sky-high restaurant. For example, the Intercontinental Mark Hopkins Hotel boasts the "Top of the Mark," a spectacular roof-top bar that provides amazing views of much of the city. They even offer a "Romance Above All" package that helps you "reignite the fire in your relationship" with red roses, chocolate truffles, champagne, and a keepsake photo to remember it all.
Take a side trip to Napa Valley – Complete your trip to the San Francisco area with an excursion to the Napa Valley wine region. Easy to reach from the city, this area provides an opportunity not only to taste wonderful vintages from a variety of large and small wineries, but there are also wonderful, romantic places to stay. The small inns and B&Bs in the Napa Valley are seductive and sumptuous and often very private, especially in the off-season or shoulder seasons (fall and spring). Be prepared, however, to spend some bucks. This kind of luxury and ambience doesn't come cheap.