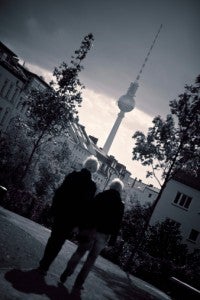 If Europe is on your itinerary for a second honeymoon but you prefer to pass on the major tourist towns like London, Rome, and Paris, why not ponder a destination that's considered one of the up-and-coming hot spots on the continent?
Berlin, Germany's capital, is becoming more and more popular with visitors to Europe. It attracts tourists with its combination of Old World pre-Wall style and charm and modern improvements, all rolled up in a package that's more affordable than most other German cities.
Divided by the Berlin Wall for nearly 30 years, the city was long an awkward place to visit. The Wall – officially known as the "Anti-Fascist Protection Rampart" – divided the city down the middle, keeping families from one another, and become the ultimate symbol of the so-called Iron Curtain, which separated the Eastern Bloc countries from Western Europe. The day the Wall came down in 1989 was a day of rejoicing for most Germans, and Berliners have been working hard ever since to make their city a welcome place for all.
What to Do
As with most European destinations, Americans and others from "younger" countries will be in awe of many of Berlin's stately older structures. With camera ready, you'll want to see all of them if time allows. But Berlin is a bit different in that much of the city was totally decimated during World War II. Later, many buildings were rebuilt to reflect their original grandeur. Some – like the Kaiser Wilhelm Memorial Church – stands as an example of respect for the old and belief in the future. What remains of the old church is just a piece of the original 19th century tower and belfry. Beside it, however, there's a soaring concrete, glass, and steel tower that is about as starkly modern as one can imagine. Today, that's where the congregation worships. Be sure to check it out.
Other must-sees while visiting Germany's capital city include:
The Brandenburg Gate – Berlin's iconic "gate" was built in the 18th century as a symbol of peace. Heavily damaged during the war, it was rebuilt about 10 years ago and was the site of the largest celebration of victory on the day the Wall fell.
Museum Island – If you enjoy a little museum hopping, head to this island in the middle of the Spree River, where you'll find five wonderful museums: The Altes Museum, with a spectacular Ancient Worlds exhibit; the Neues Museum, best known for its Egyptian and Pre-History collections; the Alte Nationalgalerie, stocked full of 19th century art; the Bode Museum, with its amazing sculptures and huge collection of coins and medals; and the Pergamon Museum, containing multiple reconstructed immense structures like the Pergamon Altar and Gate of Ishtar.
Holocaust Memorial – A stark tribute to the Jews who lost their lives at the hands of Hitler and his Nazi regime, this memorial consists of more than 2,700 gray stone slabs set up in an undulating pattern. There are no markings of any kind, but visiting the memorial is truly a goose-bump experience.
Checkpoint Charlie – This relic of the Cold War is merely a station where allied forces and diplomatic corps could cross from West to East Germany. What's there now is just a replica, but if you're interested in Cold War memorabilia, the little museum there is worth a gander.
Romantic Berlin
True…Berlin is not Paris. There's no Eiffel Tower and the locals tend towards the more conservative. But there's plenty lovers can enjoy in this fascinating city, from small romantic cafes and restaurants, to beautiful hotels with spas, to parks and gardens where you can wile the day away without a care in the world. Here's a list of a few particular picturesque spots.
Head to the Tiergarten – This lovely, expansive city park is ideal for picnics, strolling, or just sitting in the sunshine on a warm day. There are a number of notable buildings to explore as well if you wish, or you can head to the wonderful Berlin Zoo while you're there. It's the most visited zoological gardens in Europe and one of the oldest!
Visit the Schlachtensee – Take a 20-minute train ride from the city center to the Schlachtensee, a bucolic lake where you can swim, take a boat ride, or enjoy an outdoor meal. A wonderful way to spend an afternoon and the sunsets over the water are lovely!
Beach time! – Who says there's no beach in Berlin? The Strandbad Wannsee in the southwest portion of the city includes a mile-long stretch of sand imported from the Baltic coast. This open-air lido is also set up with beach chairs, little shops, and places to buy a scrumptious ice cream cone. It once functioned as a respite for those living in war-torn Berlin in the 1940s and today provides down time for harried Berliners. There's a nudist section, so be forewarned if that's not your thing!
Visit the Spreewald – The Spree Forest – or Spreewald (Spree Woods) – is a scant 40 – 60 minute train ride from parts of Berlin. However, once you arrive, you'll think you're worlds away! Take advantage of the rarely-crowded hiking trails, explore the 18,000 varieties of flora and fauna, and be sure to go "punting" on the Spree River via a hired boat. You might also consider renting a bike for an enjoyable ride through these fairytale woods. Lovely!
Where to Stay
There are loads of options for lodging in this metropolitan city and its surrounding areas, so you can choose anything from luxury accommodations to something a little less costly, including a B&B or small inn.
The ultimate in luxury? The Schlosshotel Im Grunewald makes you feel like you died and went to heaven! It's grand and exquisite but still charming and Old World-like. The staff treats you like royalty. There's a pool and lovely spa and the salons and restaurants are breathtaking. It's a 20 minute ride from the city center but worth the trip. For luxury in the city, there's also the Ritz-Carlton, Regent, Grand Hyatt, and the Intercontinental.
If you prefer small and quiet, look for a Bed and Breakfast establishment. Most are located on side streets in the city's many residential areas. There aren't a lot of them, so planning ahead is essential. There are also a number of self-catering apartments available, which gives second honeymooning couples the option of something a bit more private and spacious. Prices are good, too!