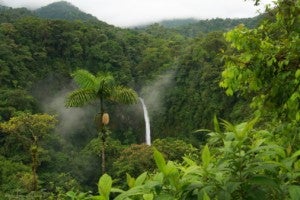 Blessed with beautiful tropical beaches, unique ecosystems, active volcanoes, rolling rivers, and enough adventure to keep even extreme vacationers happy, Costa Rica has become one of the most popular tourist destinations of the twenty-first century.
A few decades ago, however, most travelers probably wouldn't have given it a second thought. Situated below Nicaragua – a country with a tumultuous past – Costa Rica seemed an unlikely place to spend your hard-earned vacation or honeymoon funds. But a closer look at the country makes it clear while scores of honeymooners – and second honeymooners – are choosing to visit this location which now dubs itself "The Happiest Country on Earth."
Costa Rica's new moniker is – not coincidently – quite similar to that which is used to describe Disneyland. Indeed, despite its location close to countries that have been war-torn for decades, Costa Rica is a Disneyland of sorts. A peaceful country with a democratic government, stunning Costa Rica hasn't had the need for a standing army since 1949. Locals – known as Ticos – have come to be known as some of the most hospitable people in the world, welcoming tourists with open arms, eager to share their fascinating country with international visitors from every corner of the earth.
Of course, Costa Rica isn't for everyone who's seeking a second honeymoon where they can reconnect. For example, if you're an urban junkie who craves the excitement of city life, this may not be the destination for you. Rather, Costa Rica is best suited for couples who love the great outdoors. Nearly a quarter of the country's spectacular terrain is comprised of protected territory, attesting to Costa Rica's fascinating bio-diverse areas and the need to keep them intact. Visitors who enjoy this sort of travel will no doubt be awed by the country's flora and fauna, its white and black sand beaches, and all the other amazing sites that make Costa Rica a nature lover's paradise.
Adrenaline Lovers Unite
Nothing re-ignites a relationship like a little nail-biting fun, and Costa Rica has plenty of that to go around…and then some. And, as an added perk, the climate is such that adventure on both land and water can be enjoyed year round.
The first item on the list of many Costa Rica visitors is the opportunity to enjoy a canopy tour and zip line experience. The most popular location for this is in the Monteverde Cloud Forest Preserve, a spectacular rainforest area that was actually first settled by Quakers from Alabama. Home to lots of hiking trails and interpretive walkways, visitors can tour Monteverde from the ground if preferred, but the best way to see the sites is from the treetops. Guides will help you "fly" through the trees before you zip back to earth on one of the most exhilarating adventures of your life.
It that's not enough, consider heading towards the active Arenal Volcano, a must-see tourist destination, where you can embark on a number of different types of tours. Hiking the volcano is strenuous but exciting and provides a chance to view a wide array of wildlife and snap some awesome photos of the volcano. In addition, visitors can walk to the La Fortuna Waterfall, which plunges 200 feet to a sparkling pool below. Catch a little quality time with your special someone during a swim under the falls or simply sit and admire their beauty. You might also consider choosing a tour that includes a visit to one of the area's many hot springs, like Tabacón, where you can soak together in the warm naturally-heated waters that many believe possess a number of healing powers.
Not enough adventure? Costa Rica has one of the most beautiful coastlines in Central America and you can explore it on an ocean kayak tour. These guided tours are led by knowledgeable and experienced guides, many of whom are naturalists, who will not only ensure your safety but also provide a great education about the coastal ecosystem of the country. In addition, many kayaking tours include time for snorkeling as well.
You'll also want to be sure to reserve some time for a visit to Manuel Antonio National Park, where a hike will get you up close and personal with several animal species you've probably never before encountered. The monkeys of Manuel Antonio are especially entertaining!
Finally, there's not a more romantic way to end your second honeymoon trip than with a hot air balloon ride over this fascinating countryside. Balloons fly over Costa Rica's lovely rivers and forests, past waterfalls, and sometimes even provide views of the Arenal Volcano. Most of the trips take 3 to 5 hours and often include a champagne toast as well as breakfast and/or lunch. Check out private tours for 2 for an extra-romantic journey!
When to Go
Peak tourist season in Costa Rica is November to April. This is the dry season and during these months you'll be most apt to be able to enjoy plenty of beach time and adventures uninterrupted by rain. Without rain, mountain hiking and travel on some of Costa Rica's rugged roads is safer. However, some coastal areas, especially south of Limon, are rainy all the time so do your homework before making plans.
That said, it can also get quite hot during that time of year, so be prepared. The coastal areas are almost always toasty while the mountainous areas (of which there are many) include pleasant temperatures during the day and nights that can get downright chilly, so pack accordingly.
Try to avoid any holiday times that are connected with the church as the country is predominately Roman Catholic and some businesses close for several days at Christmas and Easter, for example. Before Christmas and mid to late January are great times to travel to Costa Rica and you may find that prices are lower at those times as well.