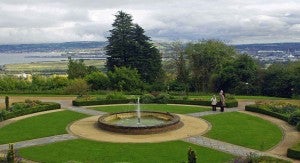 It's interesting how travel to a new and exciting destination can put the spark back into your relationship. The ability to easily explore new destinations and learn about other cultures is a true gift of living in this century and couples who embark on adventures together – even adventures that cost little – often report that they come back refreshed and renewed, rejoicing in the experiences they've shared together.
Choosing a destination – especially for those who have a long bucket list of places they wish to visit – can be difficult. Some couples insist on a beach vacation while others choose adventure. On the other hand, there are many couples who prefer to stick to exploring the world's most notable cities – New York, Chicago, Paris, Rome, Barcelona. While the large cities are wonderful, why not consider choosing an urban locale that's a bit smaller but still brimming with excitement and charm?
Belfast, Ireland fits that description to a tee. Often overlooked for the more cosmopolitan Dublin, Belfast has a character all its own, carved out by its rich maritime history as well as its years of strife. While it's true that if you mention Belfast to most travelers they think about the IRA and war-torn Northern Ireland; the fact is that since the late 1990s, the city has been violence-free and is experiencing a renaissance that has been attracting more and more visitors.
Take a look around and it's easy to see why. Belfast is truly a charming city and, as an added perk, it's quite easy to get around on foot or by automobile. There are plenty of wonderful parks and gardens, a plethora of historic buildings, fun pubs and restaurants, and enough places to explore to keep you busy for days.
Accommodations
Once you've chosen Belfast as your second honeymoon destination, the first thing you'll probably do is search for a place to stay during your visit. Like most cities, Belfast offers a wealth of different kind of accommodations, but for couples seeking a bit of romance, the city's B&Bs and guest houses offer the most private and – often – some of the most affordable lodging.
As you shop for accommodations, look for an en suite room in a classic townhouse or single home in a quiet residential Belfast neighborhood for the best of both worlds – plenty of privacy and close proximity to the city's theaters, museums, and other attractions. And if you tell the proprietor you're celebrating your second honeymoon, many will arrange some special perks for you, such as in-room champagne, some fresh flowers, or maybe even a special meal. Furthermore, B&Bs are often void of those trappings that take time away from the hours you want to spend with your partner, including TVs and computers. That means it's just the two of you with plenty of time to get to know one another again.
Of course, if you want to live like royalty while visiting Northern Ireland, book a stay in a room at a castle like Ballygally, some of which have sea views that are nothing short of breathtaking. The prices are quite affordable, the rooms romantic, and the experience totally awesome!
If, however, you prefer a traditional hotel setting, your choices are many, including lots of well-known chain hotels, like the Hilton Belfast, providing a 5-minute walk to the city center and stunning river views that are a treat to behold. Hotels provide amenities that you won't find in B&Bs and castles, like swimming pools, spa services, a fitness room, restaurants, and more.
 Exploring the City
If you're into sightseeing, you'll find there's plenty to see and do around Belfast. One of the city's major claims to fame is its link to the Titanic (the ship was built there), and with 2012 being the 100th anniversary of the ship's infamous voyage, there are more Titanic-related events than ever for history buffs to enjoy. A must-do is the new Titanic Belfast, opening at the end of March 2012, a 6-story attraction situated right beside where the yard where ship was built. Galleries will feature a variety of exhibits ranging from the vessel's conception to its disastrous maiden voyage to the discovery of the wreck not so many years ago. Fascinating!
There are plenty of other museums to visit in and around Belfast as well. One of the finest, the Ulster Museum, exhibits a combination of fine art works, fascinating natural specimens, and plenty of historical artifacts, not only from Ireland but from cultures around the world. This world class museum is just one of several in a group known as the National Museums of Northern Ireland. You may also want to check out the Ulster Folk and Transport Museum for more local and regional history.
Real romantics, however, need to take time to visit and explore Northern Ireland's beautiful castles, like Belfast Castle, which sits at 400 feet above sea level and provides one of the best views available of the city of Belfast. Built in the late 12th century, it was refurbished in the late 1970s and has been the city's top tourist attraction for quite some time. There are plenty of other castles (and castle ruins) in the surrounding parts of Antrim County, so consider taking a castle tour for a true look at ancient Ireland.
Venturing Out
If you don't want to limit your activities to just the city, there is more to enjoy in areas that are an easy drive (or train ride) from Belfast city center. The Northern Ireland coast, for example, is home to a number of stunning beaches where you and your sweetheart can spend hours in the sun and surf. The coastland is truly stunning and you'll be awed by the natural limestone rock formations, the emerald waters, and the cool, white sands. Though some of the beaches aren't suitable for swimming, most are perfect for an afternoon or early evening romantic picnic and many are secluded enough to give you that privacy you seek, especially in the off-season. Look for some great castle ruins along the coast as well, like Dunluce, where you can enjoy sunsets that'll knock your socks off.