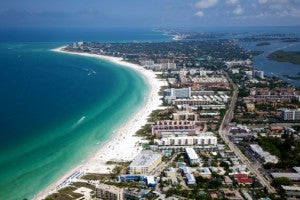 Perhaps you've been dreaming of whisking your partner away to a sun-drenched beach covered with cool white sands; a watery expanse trimmed by swaying palm trees and not too many people. But after shopping various travel sites, maybe you've decided that destinations that fit that particular description are simply too costly for your limited budget.
Chances are you've given a fleeting thought to "just going to Florida", but decided the Sunshine State just isn't for you. Perhaps, however, you haven't been to Siesta Key, that little barrier island off the Gulf Coast where visitors can go to experience a piece of paradise without the need for a passport.
Where's Siesta Key?
Mention Siesta Key and most of your friends may shake their heads unknowingly. While the name sounds quite exotic and calls to mind perhaps a tiny island off the coast of Central America or in the midst of the Caribbean, Siesta Key is an easy-to-reach stretch of land just a stone's throw from Sarasota, accessible from the mainland by two bridges. Situated between Sarasota Bay and the Gulf of Mexico, it measures 2.3 square-miles total. It's 8 miles long from end to end and never more than a few tenths of a mile wide.
For those flying to Siesta Key, it's easily accessible via flights to either Tampa International Airport or Sarasota International (generally a little more costly). From Tampa, a rental car gets you there in a little more than an hour. From Sarasota International, you're just minutes away.
Why Siesta Key?
If your idea of the perfect second honeymoon is spending time on a beautiful beach, Siesta Key certainly fits the bill. In 2004, pretty Siesta Key found its way onto the Travel Channel's list of the "Best Beaches in America", lauded as the Best Sand Beach thanks to its crystalline, white sand that's always cool under your feet. Just about every year since then, Siesta Key has appeared on at least one of the Travel Channel's "Best of…" lists, including the Top 10 Beaches in Florida.
That said, however, there's more to do in Siesta Key than just soak up the rays on the island's pristine public and private beaches. Water sports, beachcombing, and plenty of good food and nightlife round out the picture, making bucolic Siesta Key a great mix of fun and relaxation.
Where to Stay
Happily, Siesta Key is not a beach lined to the hilt with a bunch of hotels and motels. If you're looking for a popular chain hotel, you'll be limited to staying on Sarasota, which has plenty of those and is just minutes from Siesta Key. However, if you want a romantic and picturesque location on the beach or just steps from it, there are plenty of other options on Siesta Key.
As a matter of fact, a great way to truly enjoy the beauty of the island and to land some lodging that's fairly private is to book a vacation rental. The condominium complexes that are scattered up and down the island are full of owners who rent out their units on a regular basis. You'll find everything from studio-style rentals to multi-bedroom units in those condo developments, or you can choose a single-family home instead. Many weekly rentals tend to be less costly than booking a hotel or resort, they often boast similar amenities (pool, hot tub, tennis, etc.), and because they have a full or mini kitchen, you won't be stuck eating all your meals out….unless you want to do so. Check out sites like www.vrbo.com or www.rentalo.com for some great choices.
Keeping Busy on Siesta Key
By far, the beaches on Siesta Key are the biggest attraction for second honeymoon couples who are just looking for a place to rest and enjoy each other's company. The public beach, easily accessible from the north end of the island, is clean and inviting, and while it gets crowded on weekends during nice weather, the weekdays aren't too crazy. If, however, you've got a vacation rental on the beach, you'll have access to the less-crowded private beaches.
If you want to get up and go, however, you can rent a kayak and explore the shoreline, go parasailing in tandem over Siesta Key's white sandy beaches, book a fishing charter on Sarasota Bay or the Gulf of Mexico, or venture down to the south end of the island to Turtle Beach and search for shells and shark teeth.
At night, the "downtown" area of the island – located on the north end – is full of small cafes, restaurants, and bars where you can choose from a very quiet dinner for two at an eatery with plenty of ambience or a noisy beach party where you'll surely make lots of new friends. While you're at it, grab an ice cream cone, do some t-shirt shopping, or browse through the used book store for some reading material.
Best Time to Visit
If you've got some flexibility as far as travel time, the best time to visit Siesta Key is during the spring or fall, especially if you're looking for the best rates for rentals/hotels/resorts and airfare. The shoulder seasons provide beautiful weather and low prices and you're likely not to encounter a lot of crowds.
When winter is brutal in other parts of the U.S., the weather in Siesta Key can be quite wonderful. However, cold snaps do occur, so if you're heading to Florida's Gulf Coast with the other snowbirds, be prepared to have to deal with some chilly weather.
Summers can be hot, but if you don't mind the 80s and low 90s, you'll love it in Siesta Key in the summer. The breezes off the Gulf of Mexico tend to take the edge off the heat, and you can always take a refreshing dip in the swimming pool or cool off with a shower for two! Prices are cheaper in the summer than in the winter, so keep that in mind if you're trying to stick to a particular budget.