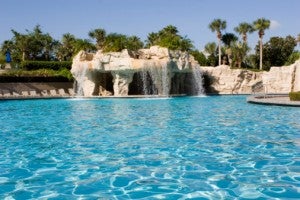 Okay, so you've done it with the kids. Maybe you've done it 2, 4, 6…a dozen times! Many parents have. But now that it's time to take a trip for just the two of you, perhaps you might have some hesitation about returning to Walt Disney World without your children (or grandchildren). Put your hesitations aside, say the travel experts. Disney is just as wonderful without the kids, and visiting sans children opens a whole new realm of possibilities!
Disney World is a mecca for adults who love good food, great shows, and top-notch accommodations. Of course, if you're fond of the rides as well, there's nothing stopping you from enjoying those, too. But with a little research and planning, you'll find that a trip to America's number one vacation destination can be a great way to spend quality time with your significant other, whether you're goal is to improve your relationship or simply to bask in its wonderfulness.
Romantic Accommodations
While there are myriad wonderful hotels outside the Disney property, there's nothing as convenient as staying onsite. Furthermore, there are so many great lodging choices within the Disney property, available in a wide variety of price ranges. However, if you're looking for "romantic", you may have to splurge just a little. If possible, avoid the popular family resorts such as the value-priced All Star accommodations.
Instead, spend a little extra on lodging (something you might not often do) and book one of Disney's deluxe resorts. For the ultimate in romance, check out The Grand Floridian, a nod to old Florida's glory days, fashioned in Victorian splendor. The ambiance is splendid but calming, the décor is lovely, and the amenities – including great restaurants – are many.
Another good choice is Disney's Polynesian Resort. One of the original hotels that opened with the park in 1971, the Polynesian has been refurbished many times over and still exudes that amazing atmosphere that makes you think you're in the islands. The grounds are wonderfully tropical in nature and, at night, you can stroll among the tiki torches and listen to (or join in on) the sounds of the onsite luau.
Need something a little less expensive. Research Disney's moderately price hotels, many of which are very charming, including the Coronado Springs, Port Orleans, and Caribbean Beach resorts.
Enjoying Adult Activities
Even if you love children and don't mind being among them, when you're on a Disney vacation without kids, you'll want to take advantage of all the "mature" activities that this holiday destination offers.
For example, the folks at Disney offer a bevy of entertainment options outside the theme parks. Consider purchasing tickets for Cirque du Soliel© La Nouba, a wonderful show that will certainly leave you in awe. Of course, there will be kids there, but this attraction in Downtown Disney is a welcome change from the noisy shows in the parks.
Also in Downtown Disney is the House of Blues, an excellent place to enjoy live music accompanied by a great Southern dinner. On tap each night are the legends (and upcoming legends) of genres that include gospel, jazz, blues, reggae, and rock.
Similarly, the Boardwalk Hotel has a few great live music spots for nightlife lovers. These include the 21-and-over Atlantic Dance Hall, where DJs and bands play music of the 80s, 90s, and today; and Jelly Roll's, a piano bar with dueling keyboards and fun audience sing-alongs, also for the over-21 crowd.
Eating at Disney
Many restaurants throughout the Disney complex cater to the tastes of adults and offer excellent wine lists. Indeed, fine dining spots are abundant and you won't find a lot of noisy kids in these locations. After researching them, make reservations so you're not disappointed. Some of the ones to try include:
Artist Point (Wilderness Lodge)
California Grill (Contemporary Resort)
The Dining Room at Wolfgang Puck Café (Downtown Disney)
Il Mulino New York Trattoria (The Swan Resort)
Le Cellier Steakhouse (Canada Pavilion in Epcot)
Victoria and Albert's (Grand Floridian Resort)
Narcoossee's (Grand Floridian Resort)
Yachtsman's Steakhouse (Yacht Club Resort)
Todd English's bluezoo (Dolphin Resort)
Flying Fish Café (Boardwalk Resort)
A Little Extra Pampering
Finally, take some extra time just to relax and do fun things…or nothing at all. A good place to chill out is at one of the resort's spas. And these are not your ordinary day spas! Just like everything Disney does, these spas are top-notch!
One of the best, the Mandara Spa at the Dolphin Resort Hotel, is quite incredible. Here, couples can choose from more than 100 treatments, all designed to relax the body and mind. The Mandara uses only the finest in spa products and there's no doubt that you'll emerge feeling rejuvenated and ready for a night on the town…or something a little more personal.
The spa at the Grand Floridian, currently undergoing some upgrades, is also simply divine! The massages and other treatments are sumptuous, performed in an atmosphere that invokes calm. Similarly, the Saratoga Springs Spa lets you and your love pamper yourself with a choice of about six different massages (check out the "mystical forest" treatment), wonderful body treatments, hydro-massage therapy, facials and more. Book the "couple's relaxation" package that you can enjoy together.
Make the Most of your Time Together
If Walt Disney World is a familiar place to you – as it is to many – the tendency will be to return to all your favorite haunts, the ones you enjoyed with the kids. It's important, however, that – instead – you make this a new and different experience, with a little of the familiar thrown in here and there. Take time before you go to plan some specific activities, make reservations if necessary, and arrive ready to enjoy a true adult experience.