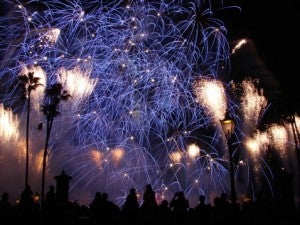 Okay, so you've done it enough. You've been to Walt Disney World more times than you can count and you swore that now that the kids are grown, you'd never go back again. You've had enough of Mickey's annoying voice, parents who drag their screaming, unwilling 3-year-olds on the Haunted Mansion ride, that nauseating Small World song that just plays over and over again, and – of course – that overpriced theme park food that just doesn't excite your palate.
But wait! Have you ever considered a visit to the "other" Disney World? The one that's pleasing to adults? The one that scintillates your taste buds? The one that provides time for relaxation and for plenty of grown-up fun?
If you've never thought about Disney World as the perfect getaway destination just for you and that special someone, think again. The Disney complex in Orlando is more than just 4 usually-crowded theme parks. Along with the Magic Kingdom, Epcot, Hollywood Studios, and Animal Kingdom comes a world in which adults can delight in all sorts of things, including award-winning restaurants, great nightlife locations, spas, and even special tours that provide an in-depth look at America's number one vacation spot.
Dining
If you and your love are foodies and enjoy visiting romantic restaurants with lots of atmosphere and amazing food, you won't be disappointed in the selections at Disney World.
Most of the best eateries at WDW are located in the complex's most upscale hotels though a few are in the parks. Two of the finest are at the Grand Floridian Resort. Narcoossee's, which is located beside the Seven Seas Lagoon, is an airy, light-filled restaurant that specializes in serving the freshest seafood available but also offers a variety of other entrees as well as tantalizing desserts like the Mango Banana Tart and the Coconut and Chocolate Crème Brulee. Also in the Grand Floridian is the over-the-top Victoria and Albert's, where you can easily drop $200 plus on an unforgettable meal that includes a 6-course prix fixe menu and a "butler" to tend to your every need.
Other great choices include the California Grill in the Contemporary Resort, serving inventive California fusion cuisine with an international twist; Artist Point at the Fort Wilderness Lodge, offering mouth-watering specialties from the Pacific Northwest; the Animal Kingdom Lodge's Jiko, an African-inspired eatery with an open "show" kitchen; and Bistro de Paris, an inspiring French restaurant located in Epcot above the more mundane Les Chefs de France.
Activities
Obviously, if you've been to Disney World before, you know how much there is to do. Certainly, if you're a fan of one or more of the four parks, you'll want to visit them. However, without kids, you'll no doubt be able to enjoy them at a much slower pace. You can skip the long lines, sit down when you need a rest, shop slowly, and even ride your favorite attraction again and again without the kids complaining.
Another fascinating way to enjoy the parks is to book a backstage tour. Disney offers a number of tours geared to the attention span of adults rather than children. They give you an up-close-and-personal look at how all the magic works. Consider the Wild Africa Trek, where you can enjoy a private, guided expedition to view the animals in Animal Kingdom; Wild by Design, where hosts explain how the Disney engineers turned Central Florida land into the African plains; the Keys to the Kingdom Tour, where you'll hear stories about Walt Disney and his dream and gain access to the underground service tunnels; or the See the World, See the Dream Segway tour, which provides a behind-the-scenes look at Epcot's World Showcase.
However, you can actually take a trip to Disney World without even stepping foot in the theme parks and still have plenty to keep you busy. If you're staying at one of the onsite hotels – which is the best option for enjoying your stay at Walt Disney World – you can partake in a variety of water sports including parasailing (in season), visit the onsite spas, use the fitness centers, rent bicycles, play tennis, go horseback riding, enjoy a dinner cruise, or even take an intimate ride in a horse-drawn carriage (Ft. Wilderness Lodge).
If you head to Downtown Disney and the area surrounding it, you can enjoy not only several top-notch restaurants but also a variety of great nightlife locations. Also nearby is the amazing Cirque du Soleil show, an opportunity to play golf at one of 5 excellent courses, and much more. The choices are endless!
Where to Stay
Truly, if you're looking for lodging options that are adult-oriented and ideal for a romantic getaway, you'll want to consider paying a little extra for a stay at one of Walt Disney World's Deluxe Resorts. These provide the ultimate in luxury and will have the extra amenities you seek including spa services, great restaurants, excellent shopping, and plenty of activities onsite. The best? The Grand Floridian Resort, hands-down! You might also consider, however, the Polynesian Resort with its island feel; the ultra-modern Contemporary Resort; the breathtaking Animal Kingdom Lodge; or the rustic but luxurious Wilderness Lodge.